About us
Who we are
Columbi Salmon aims to develop Europe's leading sustainable salmon farming company, with improved animal welfare and minimal environmental footprint.
Our story
Columbi Salmon was founded by the Refsnes family, Norwegian salmon industry veterans who saw a need for salmon production with an improved environmental footprint.
When faced with the option of continuing to invest in ocean production or moving operations onshore, the Refsnes family chose innovation. We at Columbi Salmon are now on the path to producing 12,000- 15,000 tonnes of sustainable food from the second half of the 2020's, while contributing to job creation and a better quality of life in the communities in which we are present, wherever in the world they may be.
Our first step is establishing land-based salmon farming in Oostende, Belgium, and over the coming years we plan to establish more production facilities throughout Europe.
Sustainable to the core
Columbi Salmon wants to contribute to a better and more sustainable world, by conducting transparent and circular operations with a minimal carbon footprint. Just one example is that 25% of global salmon consumption takes place within nine hours of trucking from our production facilities.
This minimises emissions from transportation and reduces waste by increasing the shelf life of the fish.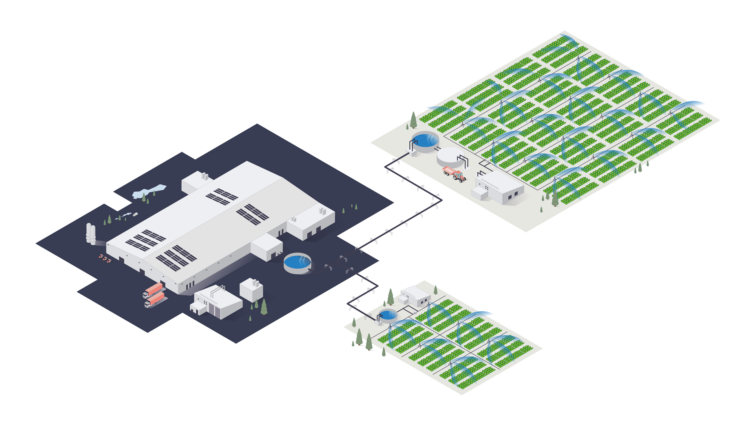 What is currently referred to as waste in fish farming, we see as resources. The water used for producing smolt will be transferred to our aquaponics facility, where up to 4,000 tonnes of salad can be produced annually without using a single speck of soil.
An added bonus is that the plants bind 2-3 times more carbon compared to their emissions in this phase of the production.
While the sludge from sea based salmon farming is typically wasted in the fjords, we use the substance to produce biogas. Up to 1/3 of our energy consumption will be covered by our own biogas and rooftop solar panels.
Columbi Salmon is ready to drive the transition to onshore, sustainable and profitable fish farming in the years to come.